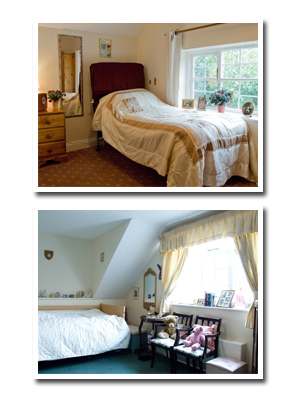 Facilities at Maple House and Manor Place:

Our staff are on hand to ensure that our residents are enjoying the best quality of life. We are committed to providing activities to stimulate and entertain, including:

• Reading, reminiscence, bingo, ball, skittles and chair basket ball games, connect four, scrabble and life story design.

• Designing, painting and drawing items such as photo frames.

• Outings to the Church, local park, shops or pubs are encouraged.

• Pets at home, entertainment, armchair physio, occupational therapy, music, dance and old movies or television are also regularly provided Special occasions (ie Christmas, Easter,Birthdays) are celebrated and enjoyed by residents and staff alike. In the summer, we hold a variety of garden parties, entertainments and barbecues.

All the facilities in the homes have been specifically designed for the care of our residents.

Wide doors to enable wheelchair access. Bathrooms have been fitted with specialist baths, there are wheel in showers and also aromatherapy and hydrotherapy bathing. Radio assisted nurse call system in every room. Television aerial points and phone facilities in all lounges and bedrooms. Personal furniture and decorative items are encouraged. Communal televisions, music and quiet areas. Lounge on top floor available for family members and overnight stays, in special circumstances. Regular outings are organised to local places of interest and theatres.

Catering at Maple House and Manor Place:

Our resident chef cooks all her meals from fresh produce served in the dining room or the residents own room. The staff ensure the dietary needs of each individual are fulfilled. in summer we have regular barbeques encouraging outdoor activity. Birthdays anniversaries and other special events are all celebrated.

Visiting:

Both our nursing homes have an 'open door' policy allowing visiting at any time. This enables relatives and visitors to visit without an appointments. Should relatives or visitors wish to discuss issues relating to the residents' care, an appointment can be arranged with the manager or the senior nursing staff.

Other Services we can arrange:

Arrangements are made with appropriate practitioners to provide services such as chiropody, hairdressing, personal magazines, newspapers and dry cleaning. These are not included in the fees and are payable by the service user direct to the relevant practitioner on submission of an invoice. Optician and Dentist: the service of a local optician and dentist are available when required Chiropody and Hairdressing: Our chiropodist visits every six weeks and the hairdresser once a week.

Service users will be invoiced directly by the respective providers of these services.

Newspapers and Magazines: These can be arranged and delivered on a daily basis. The service user will be billed monthly by the newsagent, in arrears for this service.

Religious Services: The service of chaplains from various denominations are available. Holy communion is held monthly, by local clergy, or as required by the service user.

Telephone: Service users can arrange to have their own telephone line in their room, directly with British Telecoms. The home would facilitate the arrangement but will not be part of any contractual arrangements between the service user and the telecoms service.